Group GRIT Workshops
Now, more than ever, effective leaders are those who make space for powerful and unconventional conversations about how the people on their teams approach challenging situations and relationships. Partner with Grow My GRIT today to leverage your team's existing strengths by tapping into the individual and collective GRIT in your organization.
Through our customized workshops, we create unique opportunities to foster self-awareness and self-exploration which empower the people who drive your organization to start navigating obstacles with renewed passion, purpose and GRIT.
Getting GRIT provides the firm foundation for building stronger teams!
Available for In-Person or Online
Half-Day, Full-Day or Customized to Your Needs
We have had the pleasure of working with many incredible organizations including MADD Canada, Mentoring Moms, University of Toronto Engineering Strategic Communications, MYndful Movement Program, PwC Canada and the Etobicoke School of the Arts.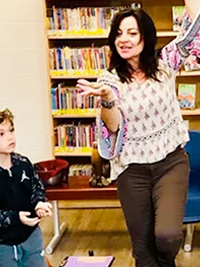 The students showed strong engagement to Know Their GRIT with Haze last Tuesday. Thanks again for that presentation, Haze. There was a 55% increase in their self-evaluated 'State of Being' from beginning to end of our session. This programming, including Knowing & Growing GRIT, is powerful work for these students. I love my GRIT card. I now keep it on my desk.
Deb Taylor,
Director, MYndful Movement Program
Speaking Engagements
Haze's unique approach to self-discovery and her fully-customizable presentations will transform the way participants approach and navigate obstacles. She is an engaging, encouraging and enthusiastic speaker whose messages will motivate listeners to contemplate incremental changes that will have a lasting impact.
If you would like to hire her to speak at one of your upcoming events, please connect with us to discuss possibilities and prices.
We have had the pleasure of working with many incredible organizations including MADD Canada